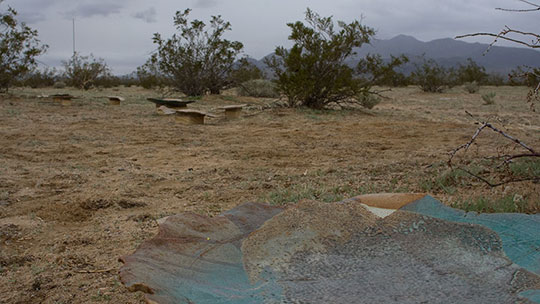 I spent last weekend out in 29 Palms with Pete and a few dozen other artists from around the UC system. Many of us installed work in the desert, and invited the public to come see what we had been up to. Pete and I worked together after the first symposium to come up with an idea for work we thought would make sense in the desert, which resulted in a piece called Trace: Resonance Field. It is a field of ceramic plates that are struck with rhythms controlled by seismic data from the surrounding mountains. I also had a chance to install Tamarisk in a more suitable location.
We're working on editing our documentation into a cogent bit of video for the internet. For now, you can see photos of the process and some short video clips on flickr. New photos of Tamarisk will be online soon, as well.
There was quite a bit of press for the show. Among others, there was a writeup in artinfo, and a video and photo gallery by press enterprise.